Classic Barber Shop
(Wilmington, DE) I've lived in many parts of the country over the years, including Maryland, Florida, California and New York. When I moved to Wilmington a few years ago to start a real estate business, I knew this was going to be my 'forever home', so I took my time in finding a good barber, one who's great at cutting hair, easy to talk and reliable. After some trial and error, trying everything from expensive unisex salons to those chains at the mall, I was fortunate to find Classic Barber Shop, 1849 Marsh Road in Wilmington.
When you walk in, it's exactly how you'd picture a classic barber shop (hence the name). The vibe is chill, the people are friendly, it's clean and bright, and the layout makes it easy for everyone to talk and have a good time. (They even have a pinball machine.) The really nice part about the actual shop itself is that it has all the aspects of a classic barber shop you would expect and want, but it still feels very modern.
Classic Barber Shop is owned and operated by three partners – Casey (K.C.) Newman, Joe Turchen and Brett Snyder. These guys are not only great barbers, but you get the sense right off the bat that they're smart business men. (K.C. has over two decades in the business, Joe has a background in sports medicine, and Brett has a Bachelor's Degree in Business.)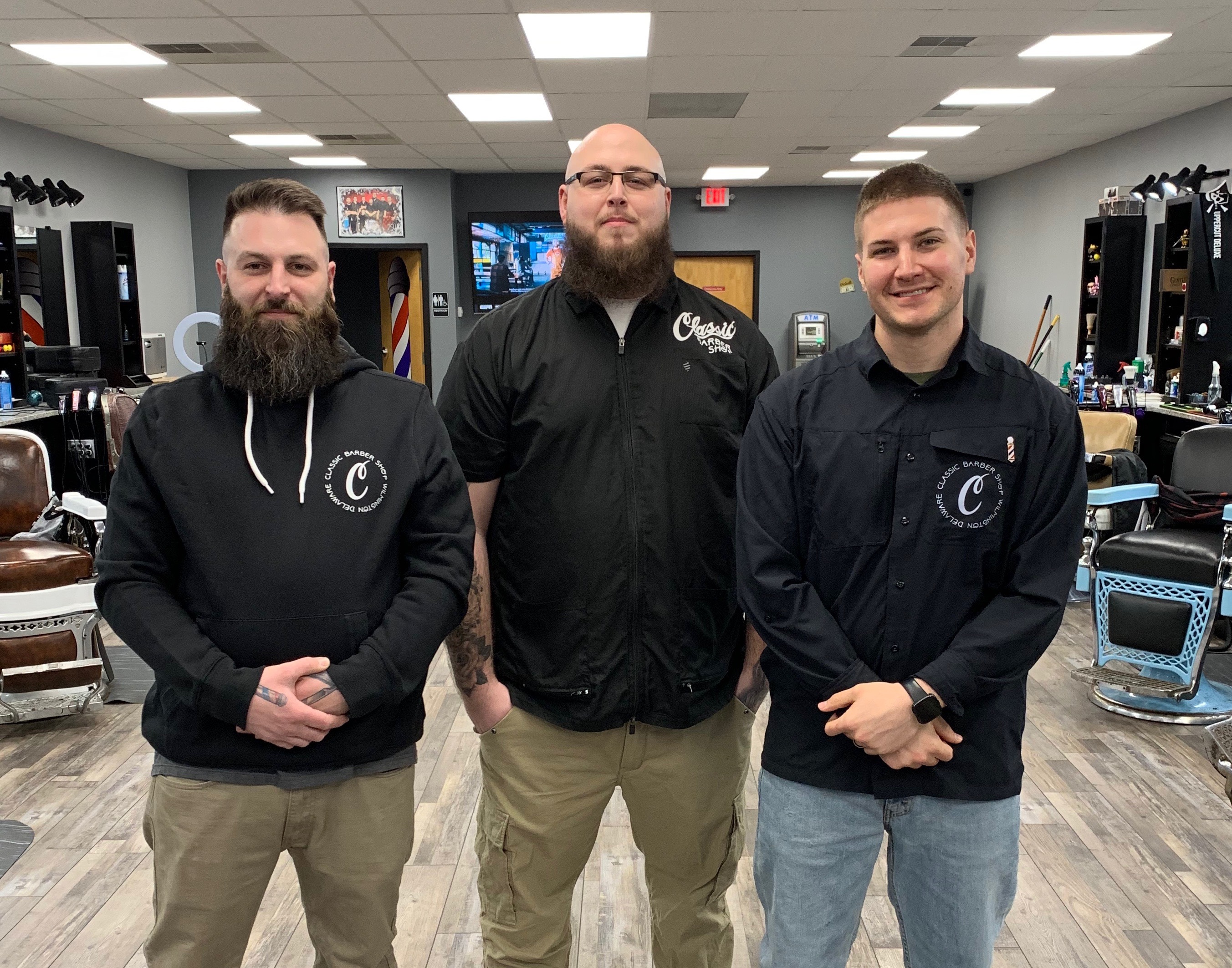 Classic Barber Shop owners – Casey (K.C.) Newman, Joe Turchen and Brett Snyder
This business savvy translates into a great customer experience and super high-quality service. In addition to the owners, there are four other barbers that work for the shop – Beau Owens, CJ Taylor, Chris Trainor, and Matt Major. As stated on the Classic Barber Shop website 'We are now 7 barbers strong to serve you better'. They can pretty much do any kind of cut, and it doesn't matter what kind of hair you have, they'll make you look great. And these guys know how to put customers first. They build relationships over time, and that's why they have so much repeat business. Customers just keep coming back.
I asked K.C., Joe and Brett what's been the most rewarding and the most challenging things about managing Classic Barber Shop. Without a doubt, they say doing it their way has been the best. They get to articulate a vision and make it become a reality. You can tell these guys take a lot of pride in what they do. On the flip side, setting up the shop and working with landlords and leases can be hard. And, when you own a service business, it's always a challenge dealing with different personalities.
As many local businesses do, Classic Barber Shop gives back to the community. They recently held a fundraiser for a charity called 'More than Fitness' which was founded with the mission of coaching young people in the areas of mindfulness and physical fitness in order to address certain mental and emotional challenges. Classic Barber Shop also sponsors little league baseball and supports the Brandywine Warriors team.
Over the next months to years, we can expect Classic Barber Shop to continue to grow, give even more back to the community, and satisfy more and more clients. With Brett, Joe and K.C. at the helm, it's a sure bet! Stop in and see them today for a cut, trim or shave, and you'll be coming back.
– by Vince Trombetta, Lambrow & Associates Group